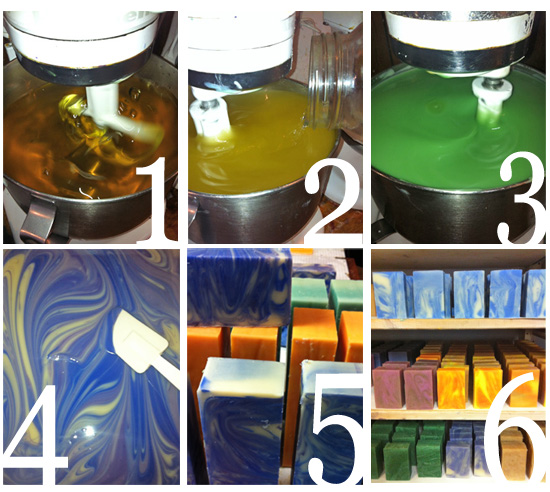 Our soaps are made from all vegetable oils in multiple batches from scratch. Each batch starts out with the same base oils but each of our many varieties have a separate precise recipe. On the days we are not making soaps we work on salves, lotions, balms, bath salts and butters.

As each batch of saponified oils mixes, organic grains, seeds, moisturizing oils, natural pigments and essential or fragrance oils are added to create each individual recipe.

This "soap" is then poured into wooden molds that hold 20 pounds of soap mixture. The colors are unique to each soap type and swirls are created.

The soap is then covered to create a warm bed for the saponification process to continue. Each batch of soap takes 24 hours to make.

After it cools it is cut into loaves by hand with a piano wire, then cut into individual bars, stacked in rows where it continues to cure and harden for 3-6 weeks. After it is cured each bar is trimmed, buffed and labeled. It is then ready to be placed on our shelves for sale.

Our retail store is open year round at 321 Lincoln Street. Orders can be placed here online or you can call during business hours to speak with one of us to place your order. We look forward to hearing from you.